zombies, athletes and superheros
This article was originally posted on Transforming Leader the winter of 2010. Enjoy!
---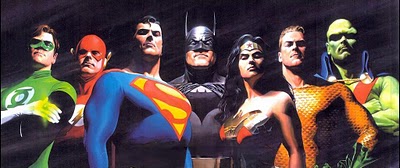 In a past post I attempted to convince you that you shouldn't be strategizing, planning, and goal-setting alone. God never intended or planned for you to be the 'Jack of all Trades' pastor. Not convinced? Read 1 Corinthians 12 again – you probably preached on that passage or referred to it sometime this year. It applies to you too! I don't know which part of the body you represent in your local church – but I do know that you need the other parts for the work of God to be a success through you.
One of my favorite people is my spiritual and ministry mentor, Pastor Mike Cavanaugh. He serves as President of Elim Bible Institute and Vice President of the ministerial association I serve with, Elim Fellowship. He has been a great example of someone who is not afraid to find his niche and then let others serve with and around him in theirs. I'll never forget one instance many years ago when he was serving as the Lead Pastor of Elim Gospel Church.  He asked me to lead all of our church strategic meetings, with him sitting as one of the team members! He wasn't afraid to relinquish control in order to see the church grow. He didn't feel the need to do everything himself. He was open to allowing others to try, fail, and eventually grow to become all or more than he could become himself in various areas.
There are three kinds of leadership teams:
Solo leaders drive a bus-load of zombies. Everyone just goes where they say and nobody thinks to get much involved.
Good leaders drive a bus-load of athletes. They carry committed people who will go out of their way to serve, help, and grow under their leaders tutelage and coaching.
Great leaders drive a bus-load of superhero's. These leaders have the self confidence to allow other

leaders

to serve alongside them; they love to release the team around them to excel beyond them.

One Question Survey
Where do you stand when it comes to gathering, equipping, and releasing others to serve with you in the calling God has for the ministry you lead?
On a scale of 1 – 5…
1 = "I don't have a team of people around me. I pretty much do everything myself. I either don't trust others to get involved or I don't believe there are others around me capable of doing what needs done in this church/ministry."
2 = somewhere between 1 and 3.
3 = "I have a team of people around me. They are committed to the ministry and to me. They are expanding what I am capable of doing because my time, effort, energy, and ideas are amplified with their presence. However, none of them are offering something to the team that I couldn't offer myself. Some have leadership gifts, but most don't have much of an opportunity to be totally released in them.
4 = somewhere between 3 and 5.
5 = "I have a team of committed leaders surrounding me. They are my dream team. Many if not all of them provide leadership and strengths to this ministry that I could not provide myself if I were in their shoes. They have surpassed me in many areas or are well on their way to surpassing me."