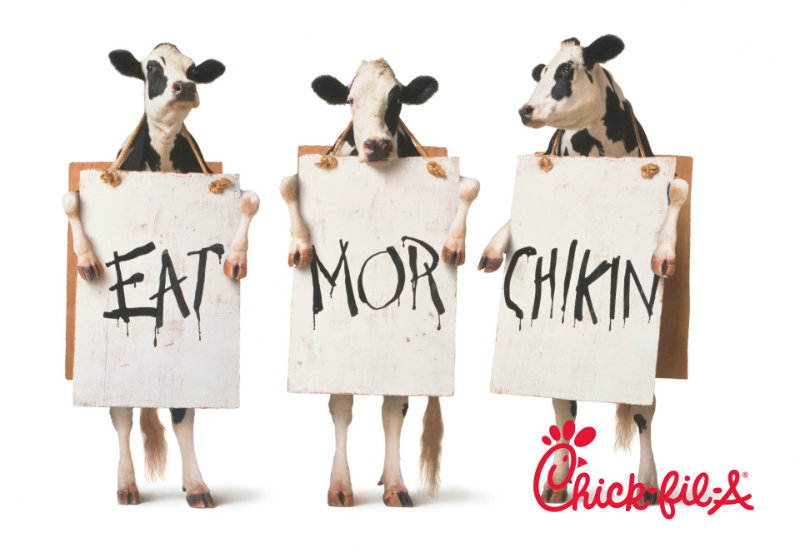 What The Church Can Learn From Chick-fil-A
When we are travelling on vacation as a family, my wife has been known to grab my smartphone and ask Google to find the nearest Chick-fil-A. It's a favorite place to eat for our family. I'm secretly glad we don't live near one – I'm sure my waist would rebel even more than it is right now!
Anyone who has visited a Chick-fil-A fast food restaurant will agree that the experience, compared to other fast food establishments, is quite unique. Most of us would give them a thumbs up and enjoy talking about the friendly employees, great customer service and the yummy chicken and fries. 
I ran across an article about some of the little things they do to serve their customers and thought to myself, "There are a lot of great ideas that the church could learn from this Christian-based nation-wide company!" Here are a few of my ideas, inspired by Chick-fil-A.
SMILE A LOT
I'm convinced God has injected a very important part of His personality into the muscles in our face. I learned that the hard way (check out, "Teach Yourself To Smile".) Unfortunately, many people have forgotten how to smile. This is not just for your greeters, either. It's a rare occasion that a Chick-fil-A employee doesn't smile, no matter who they are or where they serve. I'd like to challenge local churches to teach everybody to smile at one another . . . a LOT! I know it will make a difference.
MAINTAIN HIGH STANDARDS
Sometimes, when I visit local churches it seems obvious to me that the leaders of the church have forgotten that they aren't just a family. They are a family receiving guests. There's a difference. A big one. When my family is just 'hanging out together' in our home, we're OK with the occasional mess here or there. But when we're hosting company, we clean up and sometimes even fix up the house to be able to receive our guests with excellence. Chick-fil-A shows high standards, from the bathrooms, to the floors, to the parking lot and beyond. I recommend local churches ask themselves the question, "Are we positioned to receive our guests and attendees with excellence every single week?"
DO SOMETHING UNEXPECTED
When was the last time you found yourself washing hands at a public bathroom and noticed a mouthwash dispenser made available to guests, for free. That's what you'll find at many Chick-fil-A restaurants. It's both helpful and unexpected. It's actually a well-kept secret any organization that is truly providing a 'Wow' experience has held close to their chest. They do something that is pleasantly unexpected. That is, it's not expected at all, as in the mouthwash, or it's above people's expectations (like the smile.) Attendees will talk about their church experience to their friends when they walk away with a "Wow!" like that. (Hint, hint, click the link and buy one for your church bathroom today!)
BE CREATIVE
People love creativity. Just check out the latest box-office hit or see what's trending on YouTube or Vimeo. I think we are naturally attracted to organizations who experiment a lot and try something new or different every once in a while. Chick-fil-A does a great job at turning heads, just because they try something new every once in a while. Their 'Save the Cows' campaign is a prime example. I can't help but wonder what local churches can do to surprise their community with a good dose of creative inspiration!
HOST A GREAT WEBSITE
Your church website is often the first place prospective guests go before they decide to actually visit on a Sunday. Sadly, I suspect some people decide to try a different church, simply because they were unimpressed by a church's virtual presence (or lack of.) Chick-fil-A has a fabulous website that does so much more than give directions to the nearest restaurant. They boast customer testimonies, special campaigns, menu's that include exact ingredients (with nutritious information) and a lot more. If your church is trying to attract the community, it needs a good website.
NOTE: I offer website services to local churches at reasonable prices. Learn more at www.tlsites.com. 
SHARE THE GOOD NEWS
Chick-fil-A isn't just interested in providing great service and food in their communities. They also want to make a big difference. I happen to know that most churches desire the same thing (the make a difference part, that is.) And, in fact, many of those same churches ARE making a difference. Lives are being changed and people are experiencing God's transforming love over and over again. The problem? Nobody hears about it. I think it'd be great if our local churches would figure out how to capture and announce those stories of transformation to their communities and world, similar to how Chick-fil-A does on their 'Customer Stories' page.
What else can local churches learn from Chick-fil-A?