Time Management 101: Get Meeting Happy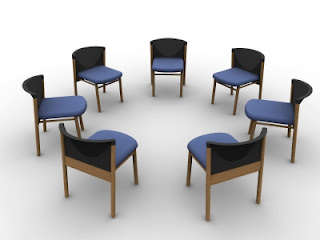 I have a recommendation for you. FILL UP YOUR CALENDAR WITH MEETINGS! That's right. I believe this can be a very powerful tool to help you stay focused, use your time wisely and get things done. Since I'm sure you don't want to be stuck in any more meetings than I do, I guess I better explain myself. The point of this basic time management principle isn't to get more busy, but LESS busy, by ensuring you schedule out your week and days in advance.
Here are the different kinds of meetings you should fill your calendar with:
Team Meetings.
A team meeting is any meeting that includes more than two people. It's important you connect with the team(s) you work with. That doesn't mean you should be in team meetings all day, every day. Limit team meetings as much as possible so that you have the time/energy in your week to process and get done what you've been dreaming and talking about in team meetings. I also recommend you clarify the type of team meetings you participate in. I lay out the three basic kinds of meetings in the post: The Seats of the Bus.
One on One Meetings.
One on One meetings include any meeting between just you and one other person. If you manage people (staff or volunteers) you should be holding 1on1 meetings with various people in order to encourage, evaluate, and equip them for ongoing ministry. If you have a boss (or direct report), hopefully you are invited to similar meetings with him or her (if not, I encourage you to setup a 1on1 with them to talk about it). Finally, 1on1 meetings will include counselling sessions, lunch appointments, time with key staff to connect or troubleshoot problems, etc. Check out Tactical Tip: Moving to Eye Level.
Self-Appointments.
The rest of your calendar should be filled in with self-appointments. These are blocks of time that you have dedicated to getting things done. Most people don't fill their calendar in with self-appointment time. As a result, the tyranny of the urgent rules the day. Long term projects, study time, prayer time, and admin time get squeezed in wherever it will fit in – and often it doesn't fit in. I recommend you protect self-appointments like you would 1on1 and team meetings. That doesn't mean you become legalistic about it, just protective. For example, you might create a weekly self appointment on Mondays for 1-2 hour slot that is specifically set aside for reading or study; or perhaps a 5 hour chunk for sermon prep on Tuesdays. You could slot off a 2 hour chunk on a Thursday to work on a long term project or something that is coming up later this month. I often create self-appointments prior to 1on1 and team meetings so I can prepare for them properly.
Additional Suggestions:
Here are a few more random suggestions in regards to filling your calendar with meetings.
Schedule 'Off Time' Too.
It's just an idea, consider scheduling what your off hours (that means hours you don't work – for those of you who keep hours like that) look like too? This is where you would include the obvious, like Doctor appointments and kids games. But it could also include specific time with the whole family or individual family members, down time, TV time, exercise, and more.
Block Flexible Hours.
If you are a pastor, you know that any given week you need to be available to meet with people, even if those meetings aren't setup today. Block the hours and days you will be available for 1on1 meetings. If you don't have meetings during that block of time, work on other things. The key is to keep most of your meetings within those blocked times and protect the rest of your week's self-appointments.