Thursday Quote: Sticking Teams and Young Eagles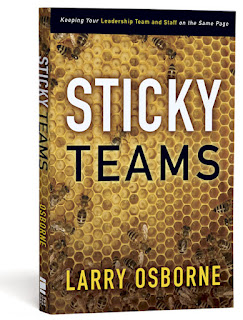 "Ironically, most churches are started by young eagles. But soon after getting their nest built, nicely appointed, and fully furnished, they start to marginalize the next batch of young eagles, asking them to sit at the kids' table and wait for their turn at middle-aged leadership."
I don't think Larry Osborne could have presented a major problem in the local church better . . . and it's becoming a major roadblock in the ongoing growth and development of the church at large. Leaders just have a real hard time releasing young leaders into meaningful and influential leadership. In his book, Sticky Teams, Larry Osborne talks about this difficulty in the chapter entitled, "Making Room at the Top". Here's a little more from that chapter.
When a church grows old, gray, and culturally out of touch – far more interested in protecting the past than in creating the future – it starts to wonder, 'What happened to all the young people that used to hang around here?' That's a sure sign that the young eagles have been shut out for a long time.
I'd be a liar if I said that protecting and promoting young eagles is a pain-free venture. It's far easier in theory than in practice. I don't like giving up my personal power, prestige, or preferences any more than the next guy does. It's kind of a drag.
But young eagles are born to fly. It's their nature. It's how God made them. If they can't fly high in our church, they'll bolt and fly elsewhere. And sadly, if and when they do, they'll take most of the life, vitality, and the future of the church with them.
So, honestly now, how are you and your church responding to young eagles? Are they written off, tolerated, or celebrated? Are they encourage to fly or asked to clip their wings?
I guarantee you, your answer will determine your church's future.
When working with leadership teams to determine their ability and openness to fully utilize and keep young eagles, I ask three questions.
Are young eagles empowered and platformed?
Are young eagles in the loop or in the meeting?
Who gets to ride shotgun? 
Disclosure of Material Connection: Some of the links in the post above are "affiliate links." This means if you click on the link and purchase the item, I will receive an affiliate commission. Regardless, I only recommend products or services I use personally and believe will add value to my readers. I am disclosing this in accordance with the Federal Trade Commission's 16 CFR, Part 255: "Guides Concerning the Use of Endorsements and Testimonials in Advertising."