'Preach Better Sermons' Cliff Notes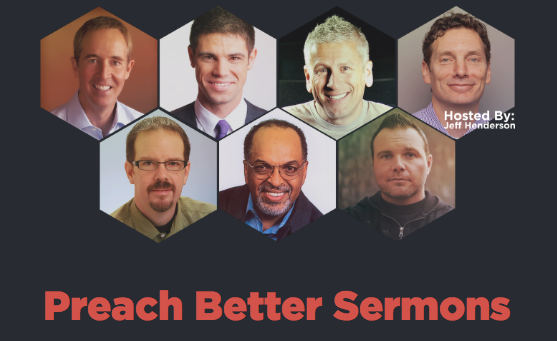 Looking to get some advice on how to improve your sermons? Chris Zeigler from BASIC College Ministries has graciously agreed to share his notes from the recent "Preach Better Sermons" online conference. Thanks Chris! For more information on Chris, BASIC, or college ministry check out the links & information at the end of this post.
You might also want to check out my cliff notes from last year's 'Preach Better Sermons' online conference right here!
STEVEN FURTICK
Plan your sermon series about 4 months out.
Build a team around you who will brief you on each series you do. Let them ask tough questions! And allow them to meet on their own to brainstorm ideas on how to integrate popular culture, what scriptures are being used, memorable illustrations, etc.
Remember – "The game is won or lost in transition" (Urban Meyer). Don't focus so much on the message that you ignore other important elements in the service.
Develop a routine before each service that helps you focus your mind and center your heart on God.
Don't worry about how people will react to your message or what they will Tweet about it – focus on the fact that God has anointed you to speak His Word.

LOUIE GIGLIO – 6 Rules of Preaching
Have something to say – be honest about what God is putting on your heart
Above all things – be faithful to the text
Lead people to Jesus
Don't be boring!
Prepare
Be led by the Holy Spirit
Find and refine 'you' – your own voice and style. Don't waste your God-given talent trying to be a Steven Furtick or Andy Stanley.
Remember the menu is just a suggestion – be flexible and let the Holy Spirit lead you.
Stay humble – don't fall into the trap of using your messages to trumpet yourself.

DONALD MILLER
Don't rely solely on inspiration – build on a foundation of discipline in sermon preparation.
If you want people to receive what God gave you, walk them through the same process God took you through.
Remember that Paul said not to use impressive words – doing this can be manipulative.

DAVE RAMSEY

Don't forget about humor – if people don't laugh every 7 minutes, you've lost them.
Public speakers say that for every hour presenting you should prepare for three. The preparation should take even longer for preaching.
Keep culture in mind. If their attention spans have dropped, make your messages and series more focused and shorter.

MARK BATTERSON
Write out your sermons as you would a manuscript. Many of his sermons become book chapters. *Key – have your manuscript done in time to pray over it.* 
Remember to use metaphors. They are important and biblical metaphors are the most powerful.
Keep your dependence on God in perspective (example – fast on the day you are supposed to preach).
Great Preacher vs. Great Prayer – you can't be a great preacher unless you are first a great prayer.

JOHN ACUFF
The best speeches and sermons are when you and the audience go where you are leading them together.
Don't over-practice – it will come off sounding more rehearsed and less genuine.
A well used prop can be both simple and powerful.
Remember – the greatest way to ruin a sermon is to be the star of your own success story – people want you to be real.

CRAWFORD LORITTS
Your preaching flows out of your relationship with God.
Remember, in the Bible God is far more concerned about leadership development that He is about leadership technique.

PETE WILSON
Draw from other pastor's series and books that impact you.
Don't let the success or failure of your sermons attach themselves to your identity.

NANCY DUARTE
Keep it relevant – take a walk in the audience's shoes and spend time in their minds.
You rarely see a film win any awards without it first having had great editing. It is the same for preaching.
You only have one hour with your people – make the most of it.

ANDY STANLEY
The key to keeping an audience's attention is your approach – approach is what makes content interesting.
Let new people know you are happy they are there – don't call them visitors.
Preach with new Christians or unbelievers in mind – acknowledge the odd things in scripture. Then give the unbelievers permission to not believe or obey what they heard. Even Jesus' disciples didn't believe until after the resurrection.
Stay plugged into a community of unbelievers.
Bring energy to your text – not just to your stories.

ED STETZER
Maximize your studying by minimizing your searching.
The Bible is always relevant – people just don't always realize it. Our job is to show them how it applies to them personally.
Keep in mind that pastors are prone to exaggeration because they are prone to motivation.

MARK DRISCOLL
Remember that our mission is to make more people God's people and that it is God's truth coming out of your mouth.
Give yourself some grace to discover who you are – who has God wired you to be?