Letting Young Eagles Fly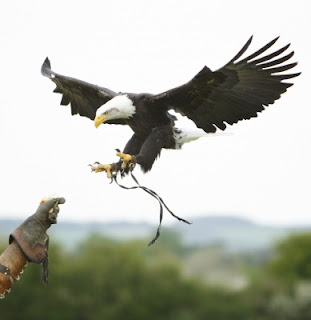 Hypothetical Question. If you HAD to pick between the following two candidates to serve as the primary leader for all adult ministries in your church (Sunday services, small groups, care, special events, etc.) who would you be most likely to choose: The Young Inexperienced Eagle or The Old Seasoned Eagle?
Your answer to that question may one day (or presently) dictate whether your church survives this decade! Last week I posted a Thursday Quote entitled, "Sticky Teams & Guarding the Gates". Larry Osborne reminds us that finding and releasing young eagles into meaningful positions of authority and responsibility is critical to our church's ongoing growth and success.
Unfortunately, most of us who've been around for a while would prefer the safety of the known, the experienced, the tried and true. Earlier this month I was talking to a church leader who told me he wanted young people to serve in his church, but that he didn't think they should be in charge. I reminded him that HE WAS YOUNG when he was given positions of authority. I've seen and heard of this happening over and over.
So for today's post I would like to direct my readers to another blog. I have recently become a fan of the leader of the Catalyst Conferences, Brad Lomenick. Among other things, he firmly believes that young people can and do make a difference.
Following is a link to his massive list of what he calls, Young Influencers. These men and women are doing great things. They are young eagles that are soaring to new and greater heights. They are attempting things that us older folk never considered when we were their age . . . and they are succeeding. For me, I'm going for the Young Eagles. How about you?