Exposing the Elephant in the Room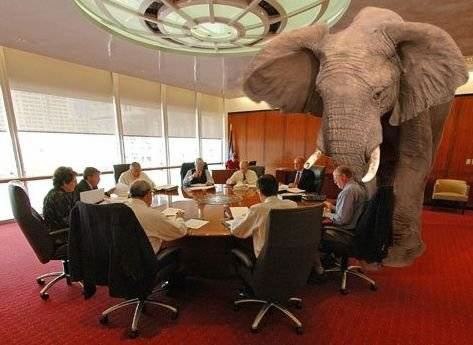 We all know about the elephant in the room. We just won't admit it or talk about it. Ever. It's taboo. It's inappropriate. It's insensitive. It's just wrong, right? Nobody talks about it.
Brenda has bad breath. You can smell it halfway across the table. Don't say anything.
A zipper is down. Don't mention it to anyone, maybe you're the only one who noticed (and who'd want to admit to noticing that?)
Tom just suggested something in the meeting that was already discussed ten minutes ago. Umm. Let's just move on.
James just showed up 10 minutes late, again. Pretend it's normal and expected.
Lisa has been systematically shooting down every idea we have had for the past ten minutes. Just stop giving new ideas.
The team leader just missed the fact that half the room has no idea what he's talking about. Nobody wants to say anything.
John has been texting for the last 30 minutes . . .
Larry has been hiding behind his laptop . . .
Katie looks like she's going to either hit someone or start crying hysterically . . . 
We already talked about that three weeks ago . . .
None of us are really interested in this new project . . .
We are all tired and haven't taken a break for the last two hours . . .
Tina is missing. She probably forgot about the meeting again . . .
Bill has missed her deadline for that project three times already.

Elephants overwhelm the room. They are big, smelly and noisy. They keep pushing people around. It always seems like the trunk is resting on your shoulder, breathing in your ear. Elephants are extremely effective at creating an unproductive and distracting environment.
There will always be at least one elephant in the room when trust is broken. A team of people who are afraid to talk, speak their mind, or say what most everyone is thinking has a serious problem. They are dysfunctional teams and accomplish almost nothing. Now imagine a meeting with more than one elephant! Maybe you don't have to. 
Does the shoe fit the elephant on your team? I recommend you get a book, read it, and then ask your team to read it. It's all about elephants (ironically, the author doesn't talk about them). You've probably heard about the book, but unless you've read it, you'll never know if you're ready for the elephants or not. 
Check out Patrick Lencioni's bestselling book: 
The Five Dysfunctions of a Team: A Leadership Fable.
Disclosure of Material Connection: Some of the links in the post above are "affiliate links." This means if you click on the link and purchase the item, I will receive an affiliate commission. Regardless, I only recommend products or services I use personally and believe will add value to my readers. I am disclosing this in accordance with the Federal Trade Commission's 16 CFR, Part 255: "Guides Concerning the Use of Endorsements and Testimonials in Advertising."
Source of Elephant in the Room image unknown.