Tony Morgan grabbed my attention again this week in his blog entitled, "5 Attributes of a Church in Decline". He shared what he and a fellow blogger felt could be five key attributes of a church in decline. What strikes me as so interesting is simply that all five attributes are indicative of a church that isn't led by someone who thinks strategically for the future. For instance, as I'll share in a future entry, a clear mission and vision is a very basic and key first step in strategic planning. What do you think?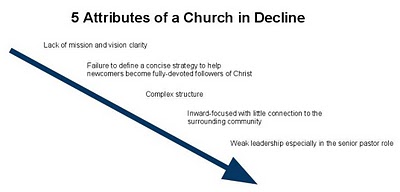 In case you have a difficult time reading this chart, the five attributes are:
Lack of mission and vision clarity.
Failure to define a concise strategy to help newcomers become fully-devoted followers of Christ.
Complex structure.
Inward-focused with little connection to the surrounding community.
Weak leadership especially in the senior pastor role.