The last couple of weeks I've walked through a blog series called "A Guest Experience." If you followed along at all you discovered that I was using a unique strategic process to solve a problem in the context of the church environment. I've said many times to my colleagues and friends that I wish I had this book available to me many years ago.
That said, I'd like to give credit where it is rightfully due.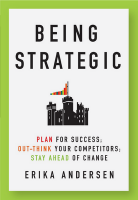 Erika Andersen is a business thinker and the author of the book "Being Strategic". Nearly all of the ideas and methods I have introduced in my most recent blog series are directly from that book. There is a lot more in the book I haven't talked about. Being strategic with groups, building a culture of strategic thinking and the art of facilitating meetings are a few.
I highly recommend this book to you. You can pick up a copy right here at Amazon.com
.
You may also go to Erika Andersen's website to learn more about her at erikaandersen.com or visit her blog at Forbes.com.
Disclosure of Material Connection: Some of the links in the post above are "affiliate links." This means if you click on the link and purchase the item, I will receive an affiliate commission. Regardless, I only recommend products or services I use personally and believe will add value to my readers. I am disclosing this in accordance with the Federal Trade Commission's 16 CFR, Part 255: "Guides Concerning the Use of Endorsements and Testimonials in Advertising."