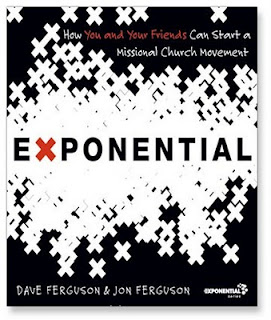 Today's Thursday Quote is from the book, Exponential by Dave & Jon Ferguson. This book is all about ministry reproduction. You have never read a book like this one. It will challenge your thinking and force you to think about ministry in a totally new way. You will be stretched and your vision for the future expanded.
This quote is near the end of the book. It answers the question, "How do I know when an idea, opportunity, or situation is a "God Thing"? Check it out:
THREE QUESTIONS FOR DISCOVERING GOD THINGS.
When we're looking for God things, we find ourselves asking three key questions over and over:
QUESTION 1: Where is God at work?Henry Blackaby, in his book Experiencing God, encourages us to always be asking the question, "Where is God at work?" We have found that question to be particularly helpful in considering new sites or campuses. So we're constantly looking at the world around us, trying to discover where God may be at work, so that we can join him.
QUESTION 2: Where is God dreaming?In his book An Unstoppable Force, Erwin McManus says there is a second question we also need to be asking: "Where is God dreaming?" This question keeps us from being passive and waiting for God to reveal his work to us. Instead it challenges us to anticipate where God might be about to do something that only he can do.
QUESTION 3: How is God confirming that He is at work?The last question is a follow-up to the previous two questions. We also ask, "How is God confirming that he is at work?" Thi is a crucial question that holds us accountable to continuing to seek God through his Word, the Holy Spirit, prayer, and the community of Christ followers so that we are certain that we are joining God in his work and not simply asking him to join us in our work."
To learn more about this book or order it through my Amazon Affiliate's bookstore, click this link.
Disclosure of Material Connection: Some of the links in the post above are "affiliate links." This means if you click on the link and purchase the item, I will receive an affiliate commission. Regardless, I only recommend products or services I use personally and believe will add value to my readers. I am disclosing this in accordance with the Federal Trade Commission's 16 CFR, Part 255: "Guides Concerning the Use of Endorsements and Testimonials in Advertising."