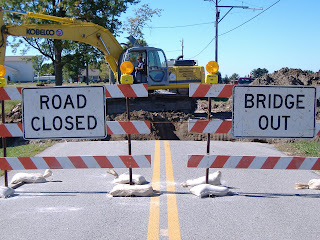 I've heard it said that there are two seasons in Upstate New York: Winter and Construction. We're feeling it right now in the small suburban town that I live in. Every day several handfuls of construction workers magically appear to repave our roads and rebuild the local bridges.
The bridge construction, in particular, has been quite frustrating. An entire section of road will be shut down for 3 weeks to a couple of months. Ugh. The first local bridge they worked on required a long, convoluted detour. I even discovered that the construction crew went on some sort of strike for a couple of weeks. I don't know the details, I just remember thinking, "This is really ridiculous! We have a well traveled road that can get me to my destination in great time that is not being fixed and has been road-blocked indefinitely!"
That said, here's what I discovered: I GOT USED TO IT. It was a mild annoyance, but eventually I adjusted my expectations and plans and just used the detour all the time. I had no idea when the road would reopen so it became pretty irrelevant as I adjusted to the new pathway. A new pathway that was long, tedious, and not very productive.
I've discovered that many of us have a road block like this that needs to be overcome before we see any meaningful changes in our ministry and at our church. It's a road block that we don't think about very much. We just bypass it, deal with it, live with it, adjust to it, even forget about it. We've gotten used to doing ministry the long, tedious, and not so productive way. This road block can be a major key to launching change. You get this particular road opened and you may discover a brand new path to effective and powerful ministry.
The road block is YOU. Think about it. If you are the primary or even secondary influencer in your church or ministry, who is really stopping you from fulfilling the calling of God for your church and on your life? It's so easy to blame the conditions around you, to describe all the reasons or excuses that stand in the way, to determine that the solution is beyond your control and external. In fact, it's easy because it means you don't have to take responsibility. You just convince yourself that there are good reasons why certain things can't happen, and you just have to live with them.
But what if the real problem was a wrong mindset that you believe? What if the road block is your way of viewing your ministry and situation? Perhaps the bridge is out and you've gone on strike…indefinitely. While on strike you've adjusted how things work so that the ministry continues – but it's entirely ineffective. What if your predecessor is the one who created the detoured path you are on because his thinking was on strike and you're now following the same path?
I'm not saying that there aren't limitations and natural barriers to the fulfillment of your God-ordained vision. I'm just saying that ONE of those barriers may very well be your perceptions and internal dialog about how you can reach that vision.
I'd like to propose that it IS possible to see God's purposes and vision fulfilled. After all, if it's a God-ordained vision, then He's interested in seeing it fulfilled even more than you are! It's not your responsibility to MAKE that vision happen, it's your responsibility to fulfill your part of that vision and let the Holy Spirit breathe life, prosperity, and blessing into it.
Maybe I'm missing all the ingredients, but it seems to me that at least three primary ones would be:
FAITH. You need to believe it's from God and live and act like it will happen. I think it's OK to have doubts. We see plenty of that in the Bible. What's not OK is forgetting that God is the overseer of your ministry, not you.

A PLAN. We would all love it if God would just step in and make it all happen. Alas and alack, he wants us to do the planning part, with His leading, instead. Nehemiah made plans to build a wall. David made plans to conquer a nation. Joseph made plans to overcome a God-revealed famine. The disciples made plans about where they would go, when they would leave, and often what they would do while they were there. And of course, Jesus lived out a God-sized strategic plan for the salvation of the world.
COMMITMENT. That means you are willing to press through the dips, the valleys, the rough times. It means you're willing to work hard, to read a lot, to ask for help, and to make changes that will require a level of self-sacrifice that will be uncomfortable. It means you'll take risks and fail sometimes and then get up and try again. It means you won't give up.
HOW DO YOU KNOW IF YOU'RE IN THE WAY? How about starting by asking three questions:
Do I have faith that God can and will lead me to where I believe this ministry is supposed to go?
Do I have a plan to get there?
Am I willing to make sacrifices on the way?