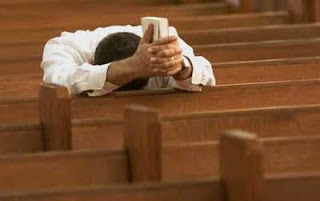 In my NIV Bible there is a heading at the beginning of Colossians 4 entitled "Further Instructions". I strongly suspect the apostle Paul would not have picked that subtitle for this section of Scripture. Here's what it says:
Devote yourselves to prayer, being watchful and thankful. And pray for us, too, that God may open a door for our message, so that we may proclaim the mystery of Christ, for which I am in chains. Pray that I may proclaim it clearly, as I should. Colossians 4:2-4
In verse 4, Paul commands us to "devote ourselves to prayer". He included two elements of prayer in the same sentence: "watchfulness" and "thankfulness".
What is so disturbing is how easy it is for us pastors and leaders to do the complete opposite. We become so overwhelmed, distracted and busy that being 'watchful' and 'thankful' is clearly far from our mind. We fall into the trap of self-reliance, exactly as our mutual enemy plans. We'll preach to our congregation on the virtue's of prayer, and then forget to do so for the ministry God has entrusted us to lead. Sure, we'll pray briefly in the morning or at night; most of us have some sort of regular and hopefully meaningful devotional life. But, perhaps you, like me, tend to slip and slide away from this critical responsibility we hold.
Have you devoted yourself to prayer for the ministry you help lead? Do you bathe your plans in His Presence?  Are you tapping into man's wisdom or the power of God in your office and team meetings? I suppose the more revelatory question simply is, "When was the last time you spent more than 30 minutes in prayer specifically for your church and congregation?"
Asking for Prayer
What is even more humbling is that Paul wasn't afraid to ask for prayer either. In fact, he often asked people to pray for him and his ministry. He gave specific requests and he assumed that the people he asked would, in fact, pray for him. There is no indication at all that he was embarrassed, ashamed, or self-conscious about soliciting others to pray for him.
Yet we often are embarrassed, ashamed or self-conscious about asking. After all, aren't we the designated leader? Shouldn't we have everything all together? Shouldn't we be mature and spiritual enough that we don't really need the prayers of others? Won't asking for prayer create doubt about our leadership in the eyes of those with whom we lead?
In reality, those are all very sad questions. They all presume that we are capable of fulfilling our calling by ourselves. Paul never seemed to make that presumption. Neither should you or I.
Have you asked others to pray for you and your family? Do you divulge the challenges, difficulties and fears you are facing to people who will lift them up to the Lord? Again, the real test is "Who do you KNOW has prayed for you this week?"
Image Source Unknown.