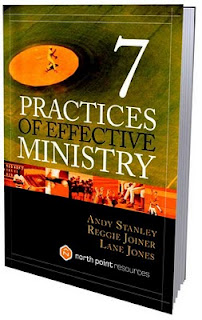 My Thursday Quote this week is by Andy Stanley from his book, "Seven Practices of Effective Ministry". At Elim Gospel Church this book is required reading for all of our leaders and new pastoral staff. The 'seven practices' have become benchmarks for how we think about ministry. The following quote is taken from the leadership practice, "Replace Yourself".
"Several years ago John Maxwell introduced our staff to the concept of 'leadership lids.' A lid is anything that keeps a leader from growing. Maxwell explained that there are certain aspects of your personality that can prevent you from achieving your full potential; therefore, it is important for leaders to identify their lids and do whatever they can to lift them. An organization will have a difficult time rising higher than the lid of its leader.
We've discovered that organizations also have 'leadership walls' that prevent others from achieving their potential. Whereas a leadership lid can stunt your personal growth as a leader and may indirectly affect the rest of your organization, a leadership wall can directly stunt the growth of those on your team and, ultimately, create a leadership gap in your organization. Lids may stop leaders from growing up, but walls keep leaders out. They form a barrier that blocks the development of future leaders in your organization."
To learn about other books I am reading or recommend, check out my Transforming Leader Store.
Disclosure of Material Connection: Some of the links in the post above are "affiliate links." This means if you click on the link and purchase the item, I will receive an affiliate commission. Regardless, I only recommend products or services I use personally and believe will add value to my readers. I am disclosing this in accordance with the Federal Trade Commission's 16 CFR, Part 255: "Guides Concerning the Use of Endorsements and Testimonials in Advertising."