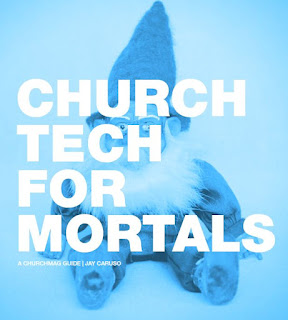 The people over at www.churchm.ag have pulled together an outstanding e-book for pastors and church leaders. The title of the e-book is Church Tech for Mortals. It's full of great advice on a myriad of 'tech topics', specifically for the local church.
For example, the very first chapter is entitled, Website: The Untamed Internet and gives you very basic suggestions on getting a decent website, including some helpful price comparisons. There's a chapter comparing the virtues of Mac vs. PC and another on Going Mobile. That's all the tip of the iceberg. The e-book also talks about worship presentation software, video editing, internet providers, routers, networks, web filters firewalls and more.
Each chapter is short and to the point, giving you just enough information to get you started but not so much as to overwhelm you and it's all written for the regular 'non-techy'!
Here's how you can get your copy of the e-book. Browse to this page and subscribe to the Church Mag newsletter. You'll be prompted to fill out some information and then will receive the e-book as a pdf document. make sure you save the pdf to your computer! If you decide you don't want to receive Church Mag's newsletter, they make it real easy to unsubscribe.
So what are you waiting for? Get your copy today!