This article was originally posted on Transforming Leader the winter of 2010. Enjoy!
---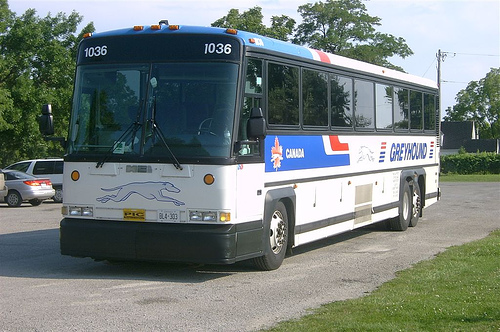 Have you ever tried to push a stalled car down a road by yourself? I have. Many years ago (when I was young and stupid) my car ran out of gas right in the middle of the road. I was also only a block away from the gas station. I jumped out and attempted to push the car to the gas station. My nemesis turned out to be a red light. After excruciating effort (and several cars waiting for me) I finally got enough momentum to get across the road and to the gas station. Ugh. Besides being embarrassing, it was very hard; but I made it.
Rewind about 4 years prior to that when I was in college. I was part of the Roberts Wesleyan College Chorale and we were in downtown New York City on a Greyhound bus. The women were dressed in black dresses and the men were wearing tuxedo's. We were late for our next concert. The BUS died in the middle of the road, at a red light! (Did you catch we were in a bus?) All the men (and a few of the ladies) got out of the bus and pushed it down the road. Eventually, the bus driver was able to pop the clutch and get it started again. I wish I had a picture!  It was awesome, fun, and memorable . . . but most importantly, it wasn't that hard.
That's the difference a team makes.
My point. Strategic planning is NOT a solo activity. As the leader of your ministry you were not meant to plan and strategize about the future alone. It is critical that other leaders and trusted members in your church or ministry be part of the process.
Here are a few very good reasons why you need a team of people while you plan for the future ministry and life of your church:
Your team will sharpen the results of strategic plans.


You can spend hours in prayer, in the Word and in planning alone and still miss out on all of God's purposes for your ministry's future. God is into teams. Jesus recruited a team of disciples. Moses was commanded to pick a team of others to carry the future of the nation with him. Paul worked with a team of other disciples and leaders as he served in ministry on earth. You can only accomplish so much creatively by yourself. Your ideas are finite. Your experience is limited. Your knowledge isn't enough.

W

hen you have a team of people dreaming together about the future, the resulting vision will be sharper, clearer, and bigger than anything you could have dreamed up alone.
Your team will add perspective to strategic plans.


Have you ever had an idea in the middle of the night and thought "That's a great idea! Why didn't I think of that before?" and then wake up in the morning, remember the conversation you had with yourself (and the idea) and think, "I must have been brain-dead, that is totally unrealistic and inappropriate!

Your team provides that kind of perspective when you get tunnel vision. They will allow good ideas to germinate and grow and will help to kill unrealistic, narrow, or faithless ideas before they get started.
Your team will provide confirmation for strategic plans.
A couple of years ago I wrote the script for my church's Christmas production. When I finished writing the script I immediately brought it before our creative team for input. After a few minor changes, they were able to give me a thumbs up – expressing that they believed in the script and liked it. That confirmation from trusted leaders and friends gave me the confidence to run with our Christmas Eve production without worry that it would be a dismal failure. I promoted the event like it would be one of the best productions ever – which it was in my not so humble opinion. 
Your team will save you time and energy.
Hours and hours of time and energy are saved when a team of people brainstorm and strategize together. Sometimes I would stand in awe of what we accomplished as a team, and how quickly and easily we did it.
Your team will become key stakeholders in implementing change.
This is perhaps one of the greatest benefits of a team. When people have a chance to walk through the strategic process with you, they will also become stakeholders in it's success. You won't have to cast the vision to these people, trying to convince them of why it's so important to the ministry. Buy-in will happen automatically as they dream, strategize and troubleshoot problems with you.

Your team will provide momentum for change.
Not only will this team have buy-in, they will often end up being the champions for it's success. They will talk the vision up with their spouses, family, friends, and the rest of the church for you. They will convince others what a great idea you have. And they will find ways to get involved in it's success. 
Perhaps some area in your ministry has stalled out. There's a car, bus, van, maybe even a train that needs to get rolling. God has shown you that change needs to happen, and it needs to happen soon.
So the real question is, are you going to push that problem down the road alone or are you going to have others who will push with you? Better spend time and energy right now getting the right people to push that bus than to kill yourself trying to get it rolling on your own.
photo credit: lairdscott via photopin cc