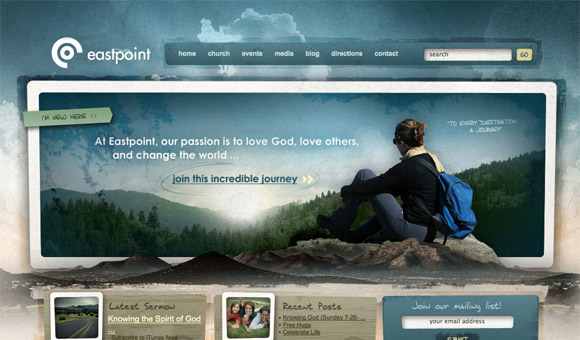 There is no longer a good reason why any church should have a weak, unattractive & outdated website. And yet, so many still do. It is treated like a leftover, back burner project that, perhaps, one day will get completed.
Unfortunately, every day a church hosts a weak website is another day it may be turning away guests, before they even darken the church front doors. A strong web presence is a critical part of the churches ongoing mission to reach the community for Christ.
Eight Reasons Why You're Church Needs A Great Web Presence
It plays a critical role in attracting first time guests.
The vast majority of your first time guests will check out your website BEFORE attending your service. This is now true for nearly every generation. Even if someone has been invited by a family member or co-worker, the likelihood is extremely high that they will stop by your website first. So your website will be the first impression for those considering attending.
It allows people to visit your church and seek God from the safety of their home.
Going to church is intimidating. Those of us who have gone for years tend to forget that. Potential guests need a way to visit church without all the real or imagined strings attached. I've heard it said that if a car salesman can get his customer to take a car for a test-drive then the sale is half made. Likewise, if a guest has a positive experience at your website, she will be much more likely to visit on a Sunday.
It represents your values.
Like it or not, your website will be a reflection of your values – even if that reflection is completely wrong! You may have a high standard of excellence, great worship, fabulous preaching, loving members, and Holy Spirit led ministry happening every single week; but if your website is shabby your web-guests will assume you are out-of-date, unorganized, irrelevant, and perhaps old-fashioned. One look at your site may be enough for them to click "back" and check out the next church their Google search pulled up.
It clarifies who you are.
If your prospective guests have any church background at all, they will be curious to know at least a little information about who you are. You may be surprised with what they are most interested in too. It's probably not going to be your "Statement of Beliefs" page. Rather, they will likely want to learn more about what your church looks like, what the people in your church look like (and how they dress), and what they should expect when they arrive.
It provides critical information about where you are.
For most people, it is much easier and more practical to just go to a website and click "Directions" than to look up your address in the phone book. In fact, with the massive increase in the use of smartphones, many will look up your church on the road or use their gps device.
It encourages evangelism within your congregation.
If your regular attendees are excited about what's going on at your church then they will want ways to invite people to your church. A great website will be a natural touch point for them and for you at those critical invitations. For example, "Hey, why don't you stop by our church this Sunday? I think you'd really enjoy it. If you want, you can go to our website to learn a little more about us first." or "We're having a special marriage seminar next Saturday that you and your wife would really like. It's going to be fun! Check out our website if you want to learn more or sign up." However, nobody is going to promote the website if they feel it's inadequate or embarrassing.
It facilitates critical communication among your attendees.
Once your website is established as a guest-friendly website, you will find that your regular attendees will visit a lot as well. Posting important info about upcoming events and critical communications will go a long way in keeping people informed. Let's face it, when we want to know something most of us start with the computer. It's easier than trying to dig through the pile of mail, bulletins, homework, and who knows what else that has piled up on the kitchen counter!
It puts extra mileage on your weekly sermons.
I'll assume for a moment that your Sunday morning speakers are decent communicators and have something to say that is impacting lives. If that is true, you will receive extra mileage on those great messages by posting them online. Your attendees will thank you. Knowing they can point friends and family to a message that really impacted them or that they can listen to on a week they were absent will help them feel cared for and equipped to put what you said on Sunday into action.
I could go on. Suffice it to say, your website is a very, very important part of your church. In fact, I recommend you look at it right now and ask yourself this one simple question: "Would I feel comfortable asking the local business owners in town to check out the church website?" If you hesitated at all, then you have work to do.
What Next? We have just launched a 'website rebuild' initiative for local churches. We will rebuild your church website from the ground up, and give you the training you need to update and use it each week. To learn more about cost and details, visit our Website Services page.