This article was originally posted on Transforming Leader on December 6, 2010. Enjoy!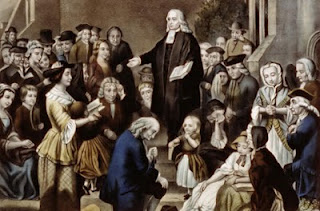 John Wesley Preaching
It's Saturday afternoon and the pastor arrives home from the office, sermon in hand. He just spent the last two days poring over the Scriptures, praying, and writing a message he really believes in. His wife sees him walk through the door and asks, "So are you ready for tomorrow's message?" He looks down at the manila envelope in his hand, lifting it up as he says, "Ready as I can ever be. I think this will be really good stuff. This series is perfect for what our people are going through right now."
Fast forward 24 hours. The service is over and the pastor and his wife are driving home from church. "So what did you think of the service?" she asks.  After a very brief moment to gather a deep breath, allowing greater sustenance in his passionate reply, the pastor says, "Amazing! God really showed up! Did you see the people at the alter? Did you notice how powerful the ministry time was? What is overwhelming to me is that I changed the whole order of the service AND my message during worship. It was all very spontaneous and Spirit led. I would love it if that happened every week!"
I'm going to open a can of worms, just for fun.
What happened here? When did the Lord show up? On Sunday morning only? Was He not present on Friday and Saturday? Was this pastor meant to spend hours seeking God for a Spirit-led message only to throw it out so God can do what He really had planned the next day? Is it possible the pastor just wasn't in tune with God until Sunday morning?  Was he just wasting his time in preservice planning and God decided to bail him out?
Let me stop for just a brief moment and ease your mind (in case I just read your mail from this weekend's service); been there and done that. There have been several occasions over the years when I set my message aside to follow through with something that I felt led to do during the service. Often the service ended powerfully. Sometimes the message was so anointed I had to backtrack and just marvel in the wisdom and discernment it represented – which obviously did not originate from me.
Actually, I don't think we can answer the question. The Bible is full of all sorts of events where man was surprised by a spontaneous move of God. Of course, we know none of it really was spontaneous on God's part – at least not humanly speaking. He knew what was going on long before we ever found out.
It leads me to another question though.
When do we really believe God shows up?
I think as pastors and leaders we often fall into the trap of thinking that the Sunday service is where God shows up and our weekly planning and preparation is our measly attempt to throw a dart at a moving target and hope we at least get close to the bullseye. Of course, we won't know where we "hit" until Sunday morning.
We get excited when we experience God's sovereign Presence and power on a Sunday morning. It's so obvious that God was there with us. Rarely do we experience that same excitement mid-week when we're in the middle of our preparations. We almost never stop and marvel at God's sovereign Presence while we make phone call after phone call recruiting volunteers to usher or be on the worship team. It's like those moments don't really count. God's off in the back room getting ready for His Sunday appearance and we're just pulling everything together in hopes that we get everything right.
What If?
What if God was actually just as present, perhaps more if that's possible, all week long with you? What if He was the one that led you to the people you talked to on the phone, the random Scripture passage that ended up being your key verse, and that song you decided to close the service with? What if God places a spiritual mantle on every pastor and leader throughout the week that is prophetic in nature? What if He speaks to you in advance of the Sunday service about what He is planning later in the week or even month?
We always think of the prophetic as being a person standing up and making a timely, relevant, and powerful message for a group of people or singular person. It's often spontaneous. The prophet hears from God "right there". She speaks it out. Everyone lets out a holy 'gasp' of appreciation (hopefully). Wow. That was God!
May I submit that many pastors and leaders function in the same role, but perhaps on an even higher level of influence and relevance? Is it not true that the message you speak on Sunday is also meant to be timely, relevant and powerful? It's not spontaneous. It's planned. It's not 'heard' and 'delivered' on the spot. It's discussed, contemplated, prayed through, and developed; then it's delivered.
You may not receive the holy 'gasp' of appreciation. But you know what? Wow. That was God!