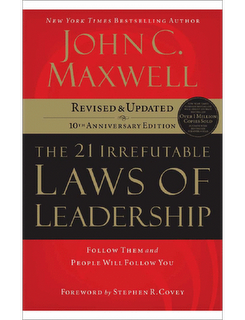 John Maxwell introduced us to the leadership principle, "The Law of the Lid", in his bestselling book, "The 21 Irrefutable Laws of Leadership
". The Law of the Lid says this:
"Leadership ability is the lid that determines a person's level of effectiveness. The lower an individual's ability to lead, the lower the lid on his potential. The higher the individual's ability to lead, the higher the lid on his potential. To give you an example, if your leadership rates an 8, then your effectiveness can never be greater than a 7. If your leadership is only a 4, then your effectiveness will be no higher than a 3. Your leadership ability – for better or for worse – always determines your effectiveness and the potential impact of your organization."
As you learn more about this leadership principle, you'll also discover that you can't really lead people below you in leadership abilities beyond your own. If you rate a 7 in leadership, you won't be able to bring those you mentor to an 8.
All of that said, apply this principle to the chart found at this link. This highlights, yet again, how important it is that you understand what level of leadership each of your key volunteers or staff operate in. For instance, you probably don't want someone leading a lot of volunteers or a ministry if they only operate at a Level 2 "Contributing Team Member".
This idea has been very helpful to me when working with my key leaders. Often, I will pull out this chart with each of them and we discuss together what leadership level we feel they operate in, what level we believe they should aspire towards (including possibly staying at their current level), and what challenges we face as a result of them being in that level, in comparison to their current responsibilities.


Disclosure of Material Connection: Some of the links in the post above are "affiliate links." This means if you click on the link and purchase the item, I will receive an affiliate commission. Regardless, I only recommend products or services I use personally and believe will add value to my readers. I am disclosing this in accordance with the Federal Trade Commission's 16 CFR, Part 255: "Guides Concerning the Use of Endorsements and Testimonials in Advertising."